Whats involved in becoming a driving instructor
So Whats Involved In Training To Become A Driving Instructor?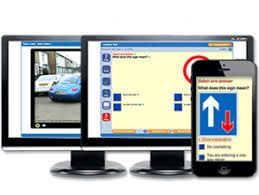 ADI Part 1 Theory Test – what is involved

The theory test is made up of two parts; multiple choice and hazard perception.
This test will take place at your local Theory Test Centre. In order to move on to ADI Part 2 you must pass both elements of this test.
We will guide and support you to ensure that you pass this test.
Multiple Choice
Before the test starts you will be given full instructions on how the test works and have the chance to do a practice test to ensure that you are familiar with the layout.For each question four answer options will appear on screen – you simply need to select the one you think is correct. Some questions may require more than one answer.
You can navigate between questions and 'flag' questions that you want to come back to later in the test.
You will have 90 minutes to answer 100 questions which are split into four bands, each containing 25 questions:
Road procedure
Traffic signs and signals, car control, pedestrians, mechanical knowledge
driving test, disabilities, law
publications, instructional techniques
The purpose of the banding is to ensure candidates have a comprehensive knowledge across the whole syllabus.
The pass mark for the multiple choice part of the theory test is 85% -that is 85 questions answered correctly.
However, you must reach a minimum of 20 out of 25 in each of the four bands.
It is therefore possible for you to get an overall mark of 85% or above but still fail the examination because you have not gained the minimum in one of the bands.
Once you have completed the Multiple Choice section of the test, you can choose to have a break of up to three minutes before the Hazard Perception section starts.
Hazard Perception
You will then be shown a short tutorial video of how this element of the test works.
You will be presented with a series of 14 video clips which feature every day road scenes.
In each clip there will be at least one developing hazard, and one clip will feature two developing hazards.
To achieve a high score you will need to respond to the developing hazard during the early part of its development.
The maximum you can score on each hazard is five. You will not be able to review your answers to the Hazard Perception test; as on the road, you will only have one chance to respond to the developing hazard.
The pass mark for the hazard perception part of the theory test is 57 out of 75.
At the end of the test
At the end of the Hazard Perception test you will be invited to answer a number of customer survey questions.
You do not have to answer the questions if you do not want to, and any information given is anonymous and confidential.
The survey questions do not affect the result of the test.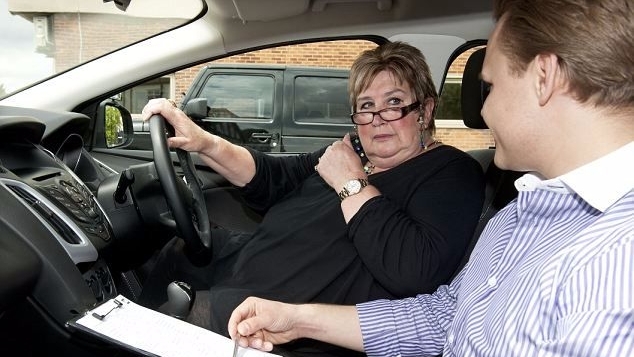 What happens during the Part 2 test
There are 5 parts to the approved driving instructor (ADI) part 2 test:an eyesight check'show me, tell me' vehicle safety questions general driving ability manoeuvres independent driving
How long the test lasts
The test takes around one hour.The eyesight test
You'll have to read a number plate from a distance of:26.5 metres for vehicles with a new-style number plate
27.5 metres for vehicles with an old-style number plate
New-style number plates start with 2 letters followed by 2 numbers, such as AB51 ABC.
You'll fail the test if you don't pass the eyesight test. It will count as one of the 3 attempts you're allowed at the ADI part 2 test.'
Show me, tell me' questions
You'll be asked 5 vehicle safety questions known as the 'show me, tell me' questions. These test that you know how to carry out basic safety tasks.
You'll be asked:
3 'tell me' questions at the start of your test, before you start driving
2 'show me' questions while you're driving - for example, showing how to wash the windscreen using the car controls and wipers
You'll get a driving fault for each incorrect answer you give.You'll get a serious fault and fail the test if you answer all 5 questions incorrectly, or if you lose control of the car while answering any of the 'show me' questions.
Your general driving ability
You'll have to show the examiner all of the following:
expert handling of the controls use of correct road procedure anticipation of the actions of other road users and then taking appropriate action sound judgement of distance, speed and timing consideration for the convenience and safety of other road users driving in an environmentally-friendly manner
You'll drive in varying road and traffic conditions, including motorways or dual carriageways where possible.
You might also be asked to carry out an emergency stop.
Reversing your vehicle
The examiner will ask you to do 2 of the following exercises:
parallel park at the side of the road reverse into a parking bay and drive out drive into a parking bay and reverse out pull up on the right-hand side of the road, reverse for around 2 car lengths, and rejoin the traffic Independent driving
You'll have to drive for about 20 minutes by following either:
directions from a sat nav
traffic signs
The examiner will tell you which you have to do.
Following directions from a sat nav
The examiner will provide the sat nav and set it up for you.
You can't follow directions from your own sat nav during the test.Going off the route
Your test result won't be affected if you take a wrong turning, unless you make a fault while doing it. The examiner will help you get back on the route if you do.
If you can't see traffic signs
If you can't see a traffic sign (for example, because it's covered by trees), the examiner will give you directions until you can see the next one.
If you make mistakes during your test
You can carry on if you make a mistake. It might not affect your test result if it's not serious.The examiner will only stop your test if they think your driving is a danger to other road users.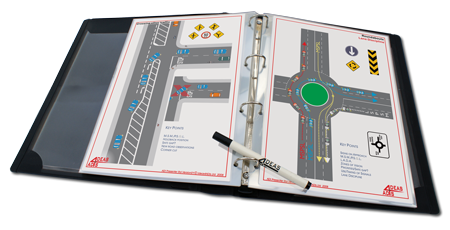 What happens during the Part 3 test
A Driver and Vehicle Standards Agency examiner will watch you give a client-centred driving lesson lasting about an hour to one of your pupils.
The examiner will look for evidence that you meet the national standard for driver and rider training.
Your pupil
Your pupil can be a learner or a full licence holder.
They can't be an approved driving instructor (ADI) or someone else who is preparing to take the ADI part 3 test.
You can take your trainer or mentor with you, but they can't take part in the lesson.
What you'll be marked on
You'll be marked on 17 areas of competence that are grouped into 3 categories:lesson planning risk management teaching and learning strategies
The 17 areas of competence are listed in the ADI part 3 test report form, which the examiner will fill in at the end of your test.
You'll get a score from 0 to 3 for each of the 17 competencies, which are added up to work out if you've passed the test, and what your grade will be.
Approved driving instructor (ADI) part 3 test: marking sheet
The report form used to mark your approved driving instructor (ADI) part 3 test, which assesses your ability to teach pupils.
https://www.gov.uk/government/uploads/system/uploads/attachment_data/file/639179/adi-part-3-test-report-form.pdf
Between your trainer and our support team we will help and guide you throughout your training to make every step as easy as possible for you. When you choose us for your training you will never be on your own and we will always be here to support you in anyway that we can.
If you have any questions regarding training then please feel free to contact us by either phone or email.